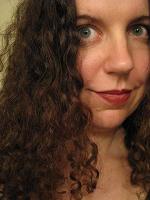 My name is Annie Zaleski, and I'm a Cleveland, Ohio-based freelance writer, editor, journalist and marketing consultant/strategist. A 2002 Harvard graduate, I have been writing professionally since 1999. My work has appeared in dozens of print publications (including Rolling Stone, Spin, Billboard, Alternative Press, The Village Voice, Los Angeles Times, Cleveland Plain Dealer, New York Journal News, Boston Herald) and online publications (Vulture, Wondering Sound/eMusic, The A.V. Club, Amazon.com, Salon, Billboard.com).
I'm also a regular guest on various radio stations; I've been on NPR, the CBC, Sirius XM Canada and MPR. I've also been a talking head in the 2005 movie Punk's Not Dead and in a 2014 Ovation TV special on the band Blondie.
From 2005 until early 2011, I was the music editor at the Riverfront Times in St. Louis, a job which evolved from being solely print-based to being focused on online content. I was the editorial coordinator (editor/head writer/copyeditor) of A To Z, the paper's music blog, and also ran the blog's Facebook page and Twitter account. You can read my archives from that time here.
I've also served as the managing editor of Alternative Press, the nation's premiere music magazine for punk, alternative and underground music. I did a little bit of everything, including (but not limited to) social media strategy, website management, interdepartmental coordination, copyflow management and marketing content.
Along the way, I've picked up a few awards:
*Honorable Mention, Da Capo's Best Music Writing 2008, for an essay on the tenth anniversary of Radiohead's OK Computer
*Third Place, Best Music Blog (Above 50,000 Circulation), 2010 AltWeekly Awards, based on the following three pieces:
Overall, I'm passionate about writing, editing, social media — specifically, how it fosters and encourages community — and telling stories.
When not writing, I enjoy swimming, drinking coffee, going to concerts, eating sushi, sleeping, reading and driving with the windows rolled all the way down. I've also been known to take photos of bands and other fun things.
You can find me online:
Please email me at: apstudiozaleski@gmail.com
Photo in the header: Me, at the 2010 LCD Soundsystem/Hot Chip show in Chicago at the Aragon Ballroom